---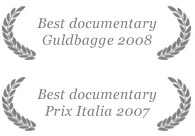 Marta has chosen an extremely radical lifestyle.
At age 19, she joined a Carmelite order, the most strict of all cloister orders. Living under a vow of silence, she is never allowed to leave the convent, and can only see her family seven times a year, in a special visitors´ room with bars separating the nuns from their guests.
The Prix Italia jury said:
"'The Nun' is a complex portrait of a deeply religious Swedish Catholic family, centring on one of the daughters, a young nun in a strict and enclosed community. A rich study of the human effect of a radical spiritual commitment, it introduces us to a world we have rarely seen.
Filmed over ten years, it is an example of television documentary which goes beyond the immediate and the temporary and shows a deep understanding and respect for its subject and characters, while maintaining an objective point of view.
Beautifully composed image are combined with sensitive and challenging interviewing, offering no easy answers at the end of a compelling story."
http://svt.se/2.74607/1.925561/nunnan_vann_prix_italia
The Nun
Original Title:
Nunnan
Duration:
58'
Year of Production:
2007
Directed by:
Maud Nycander
Producer:
Stina Gardell, Mantaray
Photo:
Staffan Lindqvist and Gunnar Källström
Editing:
Kersti Grunditz and Dominika Daubenbûchel
Music:
Sebastian Öberg
Awards:
Prix Italia award winner 2007
Guldbagge 2008
International distribution:
SVT sales - paulette.olofson@svt.se
http://svt.se/2.76904/1.935761/the_nun
Distribution Sweden:
Folketts Bio